Check out this augmented reality technology. It is used to visualize municipal underground utilities.
Meemim Inc., the creators of the world's first holographic GIS, announced today the official launch of their vGIS brand.
vGIS is a comprehensive multi-device augmented-, mixed-, and virtual-reality (AR/MR/VR) platform designed to power solutions that require advanced visualizations of GIS and other geotagged data.
vGIS is currently deployed and piloted in the municipal, utilities, energy delivery and oil/gas exploration industries where advanced visualization technology can be crucial for higher productivity, enhanced safety and better decision-making.
"We build the GIS visualization technology that helps people solve real-life problems," says Alec Pestov, founder and CEO of Meemim. "Whether you're thinking about routine infrastructure tasks that take time and can be costly—locating underground pipes, identifying utility objects, etc., or visualizing ground penetrating radar scans accurately right under your feet in full 3D, or even taking a holographic slice of Earth's crust and reviewing it with multiple associates to make better decisions for mining or oil and gas exploration—the vGIS platform has a solution to help you work with your existing data in an entirely new way."
The vGIS platform combines client-provided GIS data with third-party information from multiple sources to create visuals that power purpose-built applications. vGIS works with traditional GIS data, 3D building models (Esri CityEngine, Trimble SketchUp, and others), geological data, LiDAR scans, custom maps, and more.
Featuring stable and accurate holographic and augmented-reality projections, vGIS works on multiple devices—from phones and tablets to the futuristic Microsoft HoloLens. It features a patent-pending calibration process that allows high-precision locational and lateral accuracy to be established within seconds.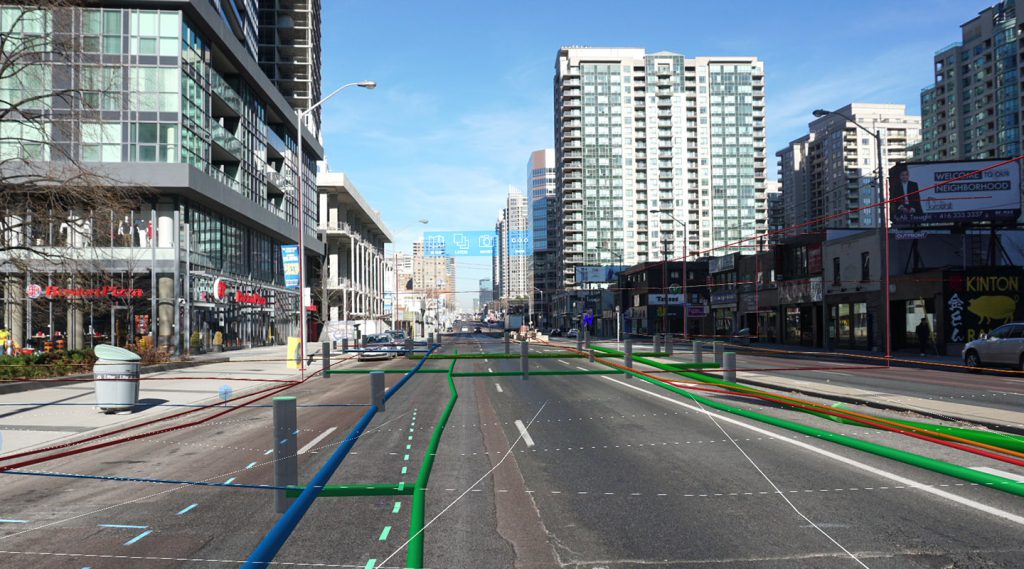 vGIS is designed for collaboration. Taking advantage of technologies designed for video games, vGIS connects people in a completely new way. Whether combining traditional phones, virtual reality, and live video streaming to connect municipal engineers with a field workforce or letting geologists and engineers review gas exploration sites from multiple locations around the world using Microsoft HoloLens, vGIS aims to take collaboration to a whole new level.
Meemim is an emerging business partner of the GIS industry giant Esri. Naturally, vGIS features seamless, simple, bidirectional integration with Esri's ArcGIS. Additionally, vGIS can utilize Esri's upcoming AR-VR runtime embedded within the products built on the vGIS platform. The tight integration of vGIS with Esri products helps current Esri users enrich their existing investment in GIS.
Meemim works closely with its technology partner Microsoft. Leveraging Microsoft Azure—the leading cloud solution—and Microsoft's most advanced holographic technology, Meemim is able to deliver solutions that appear, even today, to come out straight out of science fiction movies.
The first product built with vGIS technology is vGIS Utilities. It has already been deployed to optimize services provided by municipalities and public utilities in over 30 cities and townships and is actively piloted by municipalities and utilities globally. vGIS Utilities works to convey real-time and in-the-field holographic visualizations of serviceable infrastructure objects, such as above-ground and underground pipes, cables, or valves, and their supporting information.
"This is just the beginning," says Pestov. "We have designed vGIS to handle the complex visualizing issues related to managing GIS data and 3rd party information from multiple sources, but we have kept it easy to use and implement for every industry that uses geotagged data, whether it is infrastructure and planning, or exploration. The potential of the technology is enormous."
For organizations using GIS and other geotagged data, the vGIS platform offers an opportunity to give GIS data a completely new purpose to magnify its value. Learn more about vGIS by visiting the site www.vGIS.io.